Let's jump right in shall we? What says Halloween more than ghosts? Spooks, ghosts, haunts, specters, poltergeists… Slimer from GhostBusters – there is no more fitting time than right now to break out the sheets or the shovels and start prepping for H day.
To see all 31 of the Halloween Countdown round-ups as they're posted, visit the Masterlist!
Ghost Decorations
This is one of the freakiest child ghost props I've ever seen. Perfect for a haunted house, all you need to do is spray paint a doll white and put into a white background. It's amazing what you can do with a little paint, right? Spotted here via Babble.com.
Little feet shuffling up to your door may always be in danger of tripping on something, so lighting the way gives you an opportunity to decorate and ensure safety at the same time. Eighteen25 has this great idea for a super simple pathway light using only 4 items. It's a great way to recycle your plastic bottles at the same time.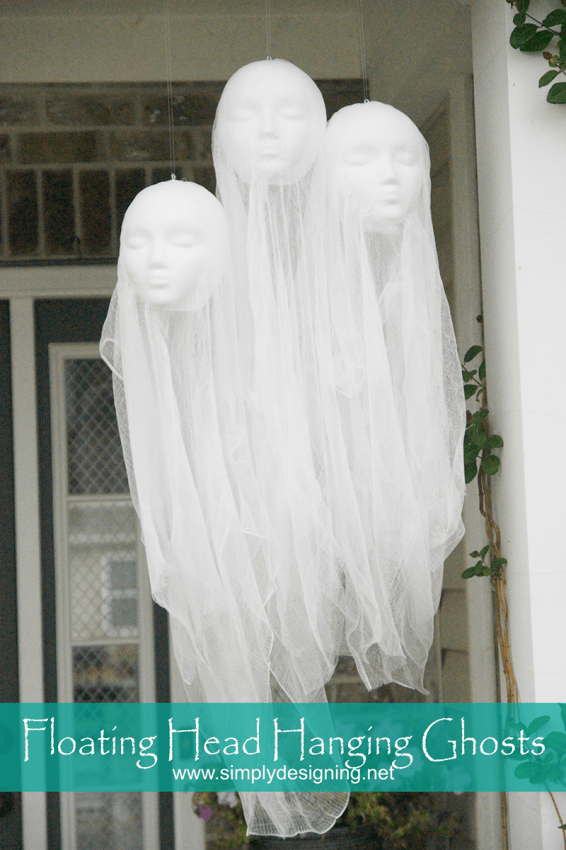 Mommy, it's a floating head! What an ingenious idea to take simple Styrofoam heads and fabric to create this spooky prop. I think some lighting from below would really make them stand out on a porch or hanging from trees. Great idea from Simply Designing with Ashley Phipps.
These DIY Lawn ghosts form Listotic would be great in a little clearing between trees. Just a few materials will whip them up and you can place them in a playful dancing ring or off in little groups. They'll look great when the death shrouds move gently in the wind.
This is probably my favorite one yet. Mysterious and ethereal, but completely frightening if you just catch it out of the corner of your eye. Wacky Archives shows you how to make these ghostly figures out of simple chicken wire to scare the pants off your neighbors.
Ghost Recipes
The amorphous classic besheeted ghost is such and easy form to replicate, so it has spawned quite a few cute and delicious recipes perfect for Halloween.
Meringues are one of my favorites, and here is a recipe from Smart School House that turns the classic on its dead head. They take only three ingredients to make and one to decorate so it couldn't be easier!
I love Peep's holiday shapes and little ghost marshmallows are always fun to play with. This is especially fun for kids to help in the kitchen. You can use cookies and other items to put the ghosts into a little graveyard setting too. Find the full recipe for the Haunted Halloween Ghost Brownies at Blommi.com.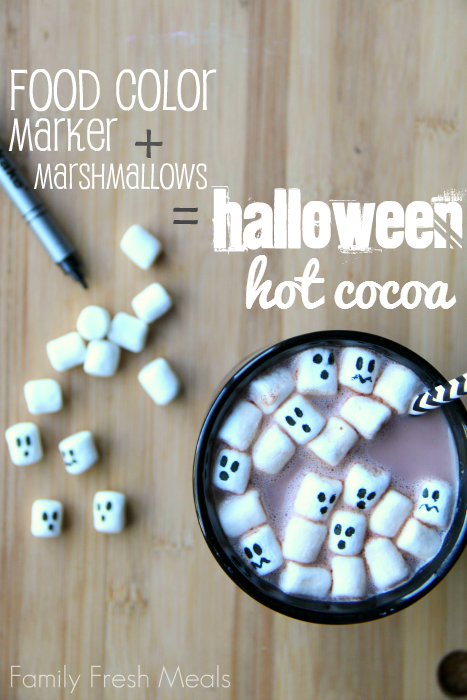 Ready for more marshmallow ghosts? I love this idea because it's so simple yet so effective! Family Fresh Meals brought this idea to life and I love all the possibilities. I'm thinking little ants floating in your cup would be fun.
So I'm just gonna go ahead and call this the healthy ghost snack option because, you know, fruit. Miss Candiquik has this quick recipe for white chocolate covered strawberries for the Halloween buffet table to treat your guests.
Ghost Costumes
Okay, so we all know the best ghost costume is a simple sheet with a few eye holes cut in them. However, if you're looking for something a little different and want to pay homage to the best ghost movie of all time, here are three kickass Ghostbuster costumes you can pick up for your trick or treating. I can't promise you won't want to wear them year round. I mean, I would, but you don't have to tell me if you do too.
Need a Ghosts Reference?
Pin the image below for a quick Halloween reference for next year too!