Pop quiz: Are black cats evil or bad luck?
Answer: Trick question, guys. Their fluffiness overrules both and just makes them soft and sneaky. However, the elegance and mischief of cats makes them a timeless decor inspiration. So let your cat fancies run wild. Also, I'm absolutely cheating because not all these cats are black.
To see all 31 days of the Halloween Countdown, visit the Masterlist!
Black Cat Decorations
These black cat'o'lanterns from Sunset are probably my favorite thing ever. Who would have thought of this? You can put candles in the heads too so the eyes light up.
These paper cats from Parents would make a great, chic table topper. You can print out the template by clicking the link.
This idea from DIY Network is so simple. Just cut out the shapes you want from black paper and stick them in your windows. When the indoor lights are on, they'll come to life!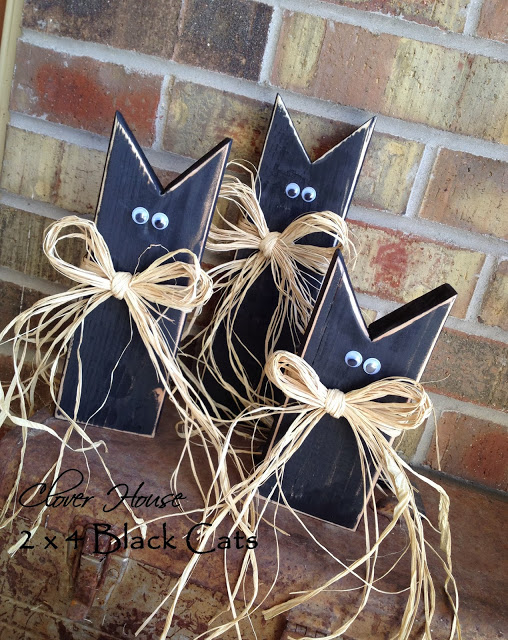 These wooden cats add a folksy touch that extends past Halloween, via Clover House.
You can make ghost or cat lights, but guess which one I'm more excited about. From Cakies.
I'm starting to realize just how much this countdown has run from 'bring on the toddlers' to 'hide your wives and children' with these crafts. Still, I think this handprint idea from The Chirping Moms is really cute.
Continuing on the kid-appropriate theme, this paper plate cat is great for little hands. From Crafts by Amanda.
Cat Food
Super easy, assemble your own cat cookies via Party Pinching.
Land O Lakes has this cat cookie recipe on their website.
My Mommy Style is rocking the Nutter Butter black cats – I'm craving this so hard right now.
Lest you think we've exhausted cookies, here is a cat cake instead, via Betty Crocker.
Hungry Happenings has cake pops because they know the value of bite sized cake on sticks.
Pin these black cat ideas for later